A jot a day: second week edition – Tuesday, October 24, 2023
A jot a day: second week edition – Tuesday, October 24, 2023
Reminder: I have been writing a blog post every day since last Monday just to get back into a daily writing practice. If you look back through my posts I am a bit of a sporadic blogger so I wanted to try and be more consistent (*cough* like I was on Livejournal pre-2008). I am also writing every day this week and at the end of the week I will see how I feel about continuing to post. It's a random hodge podge so as I tell my kids: you get what you get and you don't get upset.
Links du jour
• This senior sold his home due to interest rate hikes. Now, he can't find an affordable rental. What on god's green earth…? Who has a mortgage on a house they've owned since 1991 that costs $2600 a month? That means he has a mortgage around $375000 at 7% (or $415000 at 6%) when the average house price in Calgary was around $100 000 in 1991. He probably should have considered a roommate and/or a part-time job a lot sooner rather than hastily sell his house and then try to figure it out.
These articles always find these random people who if you drill deep into it their stories don't add up. I suspect there is probably a lot more going on here that rising rates exacerbated, not caused.
• UGH. We get these all of the time because we are in a mid-century built neighbourhood with a lot of elderly people who these predators target. Cash for houses.
• No one wants to wor…oh wait…*checks notes*… to become a manager anymore.
• 20 Best Canadian Horror Movies of all time. (gift article)
Rant: working for money vs. found money
I have been re-watching Golden Girls lately with The Youngest. In one episode, Rose inherits a pig named Baby from her uncle. Of course, the other women don't want Baby to live with them until they learn that Baby comes with $100 000 (appx $271 000 in today's money) that Rose agrees to split with them.
The other girls go wild with shopping and Blanche buys a luxury car. Of course, Rose thinks Baby is homesick and ends up sending him home…where he promptly dies and her other relative collects the money. Dorothy says at one point, "I can't believe we went all crazy buying things we didn't even need!"
This is the nature of spending money without having to work for it.
I experienced a similar scenario in my 20s when a friend and I found $200 outside on the ground as we left a theatre. Since it was really late at night we headed to the late-night pharmacy and bought a bunch of makeup and other junk we didn't need. What was absolutely bonkers is that we were poor students at the time! We were living on peanuts and we could have totally saved that cash for something worthwhile. But we didn't: it was burning a hole in our pockets, as the old adage says.
I posted last week about Morgan Housel's piece which had a great section on quick money:
I love the idea that the speed in which you made your wealth is the half-life for how fast you can lose it. Double your money in a year? Don't be surprised when you lose half of it just as quickly. Blitzscaling? Blitz failing.

Two things happen with quick, fragile wealth.

One is that money that comes easily tends to be spent easily. When money comes quickly, the emotional cost of blowing it on something frivolous is low. You are only careful with something when it's dear to you. Spending quick money that you didn't invest much time or energy into earning can feel like the equivalent of a one-night stand: impulsive and prone to regret. Old money wants a tax shelter, new money wants a Lambo.

The other is that the quicker the wealth was made, the higher the odds it came from luck that will revert just as fast.
It's so true. We hear all the time about people who win the lottery and then are broke in a few years. Professional sports players can live the life for awhile but those careers are generally short – and sometimes made shorter due to injury. Getting a huge windfall can sometimes be a double-edged sword.
I wonder if there have been studies on people who receive large inheritances? It occurs to me that it would be a similar kind of windfall. Do they not spend recklessly due to the fact it came from a deceased relative who they knew worked hard? Is there a difference in spending by degrees of separation. For example, it would be interest to know if people were not wasteful with their parents money but were wasteful with a great aunt's cash because they never saw what she went through to get that money?
Personally, Mr. Tucker and I plan to give with a warm hand, which essentially means we want to help our kids while we are still alive. I think this can be done well by matching their own personal savings so it is tied to their own ability to work and save. This will all hinge on how things go with the condo sale and returns on our investments over the next couple of decades.
Both of us have never factored in inheritance into our retirement plans. Everything we base our projections on, is based on what we have.
13 Days of Halloween Movies
To recap what this is: when the pandemic hit our kids were 10 and 12 and in their prime trick-or-treating years. It made me sad that they couldn't do the more traditional neighbourhood jaunt so instead we created a new ritual: 13 days of Halloween movies. We chose 13 movies to watch in the days leading up to Halloween and we bought them each some typical Halloween candy to enjoy while we were watching them. I also posted their reviews to each movie online with a picture of the movie poster and friends and family told me that they really enjoyed the reviews and that they looked forward to them. So even though they've gone trick-or-treating since then, it's a ritual we have continued – with less candy.
Another new offering today, Disney's Haunted Mansion. For what it's worth, I do adore the Disneyworld attraction, The Haunted Mansion. It's one of my favourite things and we have creepy family portraits that we had done there. I also have memories of getting lost in/separated from my parents when I was a kid. I do not recommend that trauma, which is probably why I remember it.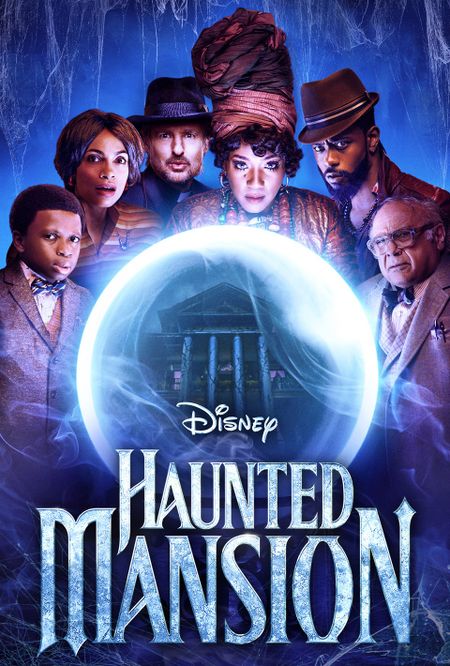 The Youngest: (they're behind on their reviews. It will appear here when it comes in the family group chat)
The Eldest: 9/10 I really enjoyed it. The reason it's not a 10/10 is because people in movies tend to move on from their dead partners too fast and it's just annoying. You don't have to fall in love with every girl you hangout with.
Mr. Tucker: 5/10 The first half was good (see what I did there?).
I really enjoyed it. It wasn't remarkable in any way but it just was a heartwarming tale with good acting and good pacing. It was a nice way to spend a couple of hours.